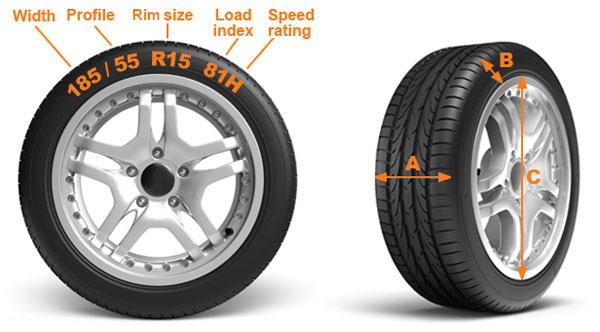 FIND YOUR CHAIN SIZE
Find your tyre size on the side of your tyre. You need width, profile and rim size, which are 185 55 R15 in the image. In the Chain Size Chart below, find your rim size (R15) and your width/profile combination (185 55).
The first two columns on the left show the Snow Driver (the brand we use) chain size for your tyre, KN60 for this example. For cars, select the chain size from the KN column and for 4WDs, select from the RV column. We will go over this with you when you pick your chains up to ensure you have the right size.
Chain Chart
Book Now
Fitting Chains
Most cars are two-wheel drive and chains go on the drive wheels, usually the front wheels. Chains generally go on the front wheels on SUVs/4WDs. Front wheel chains provide traction for downhill steering and braking. You need clearance for the fitted chain around the whole wheel. If there isn't enough clearance on the front wheels, you will need to fit the chains on the rear wheels.
Chains need to fit securely with no loose parts, with enough tension on the tensioner to secure it in place. Once you've fitted your chains, drive 50m and check/tighten chains. Drive below 40kmh to avoid the risk of chains working loose. Chains aren't designed for vehicles that are towing.
Chain Fitting Video
Visit us
200 Yaldhurst Road,
Avonhead, Christchurch 8042
Open Hours
MON-THURS: 9am – 7pm
FRI- SUN: 8am – 7pm